What is Keratosis Pilaris?
Keratosis Pilaris (also known as Keratosis Follicularis, Lichen Pilaris and Follicular Keratosis) is a non-contagious skin disorder.
An overproduction of keratin blocks the hair follicles and small bumps form. This causes the outermost layers of skin to thicken, especially on the upper arms and thighs but also on the buttocks and on the face. Small pimples develop and skin feels rough and uneven − hence why Keratosis Pilaris is often referred to as 'chicken skin'.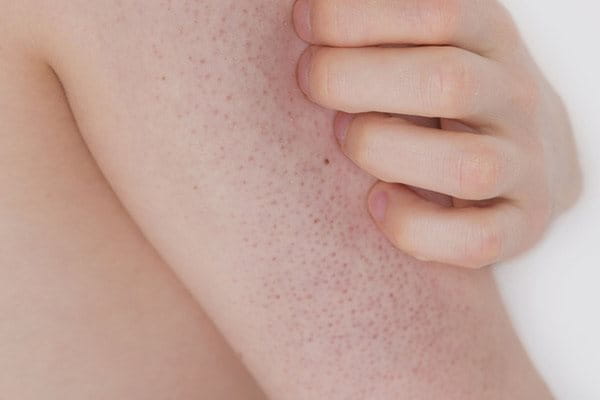 Small skin-colored, red or brown pimples appear on the skin.
A genetic condition, young people are particularly affected: the first symptoms of Keratosis Pilaris usually appear during childhood and are very common in adolescents. Chicken skin can clear up as we age, or it can keep coming back.
Sadly, there is no known cure for Keratosis Pilaris, but symptoms can be alleviated by regular skincare using appropriate oils, peels and skin creams